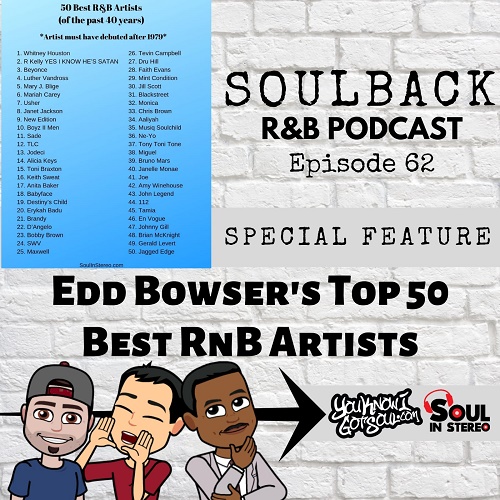 We've had a special guest on pretty much every #SoulBackPodcast episode this year but we had to take a break from that because Edd put together his list for the Top 50 R&B artists over the last 40 years. This caused a huge uproar on the internet, so we decided to dive deep into it and analyze the hits/misses on there. We debate about the inclusion of Bruno Mars and whether he actually fits into this list. We also talk about the Immature reunion tour which will feature Day26, J. Holiday, B5 and Ray J. As for the new music, we talk about new joints from PJ Morton, Mary J. Blige and Teyana Taylor. This episode is wild so you definitely want to listen to the whole thing. Kyle and Tom try to reason with Edd regarding his list, but we'll see what the outcome is.
0:01:00: Immature's reunion tour with Day26, J. Holiday, Ray J and B5
0:09:00: The popularity of Immature compared to B2K
0:11:22: Edd defends his Top 50 R&B Artists List
0:22:40: Bruno Mars being on the list and not Justin Timberlake
0:30:03: Can a general fan even name 3 Janelle Monáe songs? Replace her with Anthony Hamilton, H-Town, Guy and Donnell Jones?
0:38:10 Mariah Carey based on hits should be number one
0:41:23: The exclusion of Ginuwine, Trey Songz and THE BIGGEST SNUB OF ALL TIME….ASHANTI
0:45:40: Fans being mad that R. Kelly was on the list
0:48:38: New music from Teyana Taylor, Mary J. Blige, PJ Morton, Ashanti and Big Baby DRAM
0:53:55: The single cover for "Before You Walk Out Of My Life" by Monica, Burger King employees vs the cops, a female artist who passed on a booking offer because the opening act was a female???
0:58:25: SoulBack Track Of The Day: LL Cool J – Hey Lover (Featuring Boyz II Men)
Follow our podcast on Podbean: https://youknowigotsoul.podbean.com/
Follow our podcast on Soundcloud: https://soundcloud.com/youknowigotsoul/sets/youknowigotsoul-podcasts
Follow our podcast on Spotify: https://open.spotify.com/show/6oLmNUkcXrAqsQP5EBJ4dk
Follow our podcast on iTunes: https://itunes.apple.com/ca/podcast/youknowigotsoul-podcast/id998813013
Follow our podcast on Google Play: https://play.google.com/music/listen?u=0#/ps/Imoe7gt6vd4v6iuf4yq5fyhy3e4
The post The SoulBack R&B Podcast: Episode 62 (Edd Bowser's Top 50 R&B Artists List) appeared first on .
Click here to read full story »