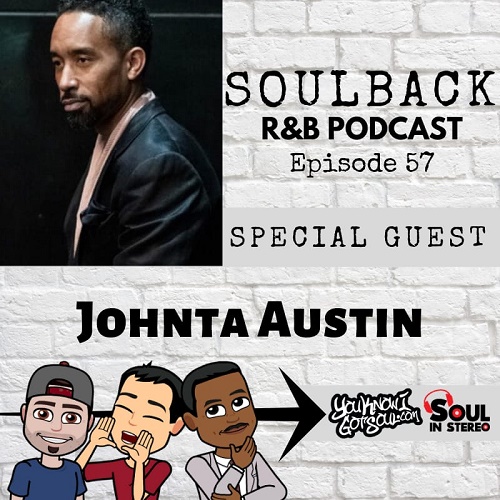 On this week we are joined by one of the greatest R&B songwriters of our time Johnta Austin. The man is responsible for hits such as "Be Without You" by Mary J. Blige, "We Belong Together" by Mariah Carey and "Sweet Lady" by Tyrese. We talk to the prolific singer/songwriter about his new single "Love Angel" along with his upcoming album "Love, Sex & Religion" which is considered R&B's version of the "Detox" album as it has been on hold for over a decade now. We also talk to Johnta about the state of R&B and also highlight some of the best songwriters in the game including Stevie Wonder, R. Kelly and Babyface. We also talk about Elle Varner's upcoming EP and the disappointing sales from Daniel Caesar. We also try to figure out what is considered a single in 2019 compared to what we're used to from the 90's and 2000's.
0:01:00: Tom's chicken eating ways
0:04:43: The greatness that is Robin Thicke's "That's What Love Can Do" single
0:07:00: R&B film news from Brandy, Chloe X Halle and the DeBarge biopic
0:14:02: Daniel Caesar's new album "Case Study 01" only sold 3000 copies???
0:15:56: Elle Varner is dropping an album soon after her extended EP "Ellevation"
0:20:10: The guest features on Jacquees' new album "Round 2"
0:24:45: What would Janet Jackson's career have been like if she wasn't related to Michael?
0:28:00: What is considered a single in 2019?
0:35:55: Johnta Austin joins us on the #SoulBackPodcast
0:36:40: Talking about the new single "Love Angel" aalong with his upcoming album "Love, Sex & Religion"
0:38:13: Adapting to today's era of R&B with shorter songs and no bridges
0:44:35: Realizing people still crave real R&B songs
0:49:20: Top 5 R&B songwriters of all time
1:15:05: Playa Please Awards: Chris Brown's "nice hair" comment, Taylor Swift's rant on tumblr about her masters
Follow our podcast on Podbean: https://youknowigotsoul.podbean.com/
Follow our podcast on Soundcloud: https://soundcloud.com/youknowigotsoul/sets/youknowigotsoul-podcasts
Follow our podcast on Spotify: https://open.spotify.com/show/6oLmNUkcXrAqsQP5EBJ4dk
Follow our podcast on iTunes: https://itunes.apple.com/ca/podcast/youknowigotsoul-podcast/id998813013
Follow our podcast on Google Play: https://play.google.com/music/listen?u=0#/ps/Imoe7gt6vd4v6iuf4yq5fyhy3e4
The post The SoulBack R&B Podcast: Episode 57 (featuring Johnta Austin) appeared first on .
Click here to read full story »