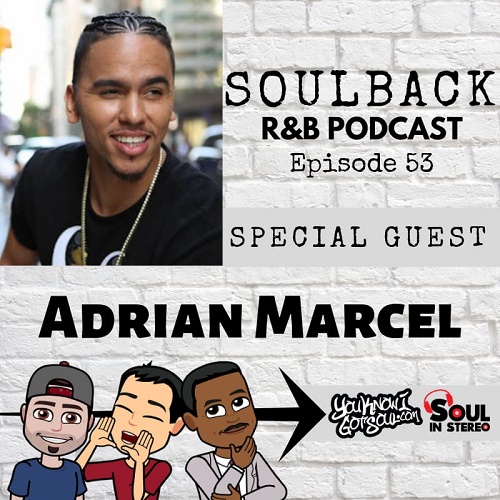 Edd is back on the podcast so we get into our usual chats about chicken, slurpees and of course R&B. We talk about the new Chris Brown and Drake single as well as the future of female R&B with artists like Queen Naija, H.E.R. and Ella Mai. We also bring in R&B artist Adrian Marcel as our special guest for this week's episode. The Oakland singer is one of our favorite R&B acts from this current decade and he just dropped his new album "98th". We talk to him about the new project as well as his experience working with a major label. He also talks about his role on the new Bobby DeBarge movie that's coming out. Check out the latest podcast!
0:01:45 – How do you eat your chicken wings?
0:04:40 – Our thoughts on Chris Brown and Drake's new single "No Guidance"
0:11:15 – The future of Queen Naija, Ella Mai and H.E.R. and their potential
0:21:15 – Adrian Marcel joins the #SoulBackPodcast
0:22:00 – He talks about his new album "98th"
0:29:33 – His ability to combine traditional R&B with trendy sounds
0:36:15 – Label politics with the songs "Back To Sleep" by Chris Brown and "Spending The Night Alone" by Adrian Marcel
0:42:15 – Lessons learned in the industry
0:48:00 – His acting role in the new Bobby DeBarge movie
0:51:00 – Playa Please Awards: Quavo wants to do an R&B album, DJ Khaled's temper tantrum, Beyonce/Beyhive/Stephane Mills
Follow our podcast on Podbean: https://youknowigotsoul.podbean.com/
Follow our podcast on Soundcloud: https://soundcloud.com/youknowigotsoul/sets/youknowigotsoul-podcasts
Follow our podcast on Spotify: https://open.spotify.com/show/6oLmNUkcXrAqsQP5EBJ4dk
Follow our podcast on iTunes: https://itunes.apple.com/ca/podcast/youknowigotsoul-podcast/id998813013
Follow our podcast on Google Play: https://play.google.com/music/listen?u=0#/ps/Imoe7gt6vd4v6iuf4yq5fyhy3e4
The post The SoulBack R&B Podcast: Episode 53 (featuring Adrian Marcel) appeared first on .
Click here to read full story »