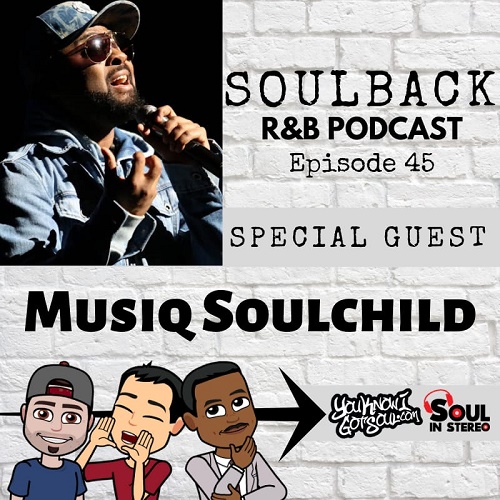 This week we bring in legendary singer Musiq Soulchild to the podcast. Musiq is a longtime favorite of ours so we had to make this one happen. We talk about his recent music releases which includes features on basically every rapper and singers projects. We also get into his mind as a creative and learn about the journey from the start of his career. He also shares some insight on what he's looking for in terms of partnerships in music and gives his observations on what's going on in the industry. We also talk about new music from Chris Brown and Donell Jones. Lastly we try to decide if "Come And Talk To Me" by Jodeci is better than "Can We talk?" by Tevin Campbell.
0:01:51 – Reflecting on Musiq Soulchild's debut album "Aijuswanaseing"
0:04:31 – Do international fans complain about R&B like we do?
0:05:41 – Jon B's new single "Understand" with Donell Jones
0:08:20 – Is Usher's new album the most anticipated project in the last decade?
0:11:00 – Q. Parker from 112's new "Bridge" project
0:12:20 – Chris Brown's new single "Back To Love"
0:15:15 – Did Claudette from City High have superstar potential?
0:17:15 – Better song: "Can We Talk" by Tevin Campbell vs "Come And Talk To Me" by Jodeci
0:21:34 – Musiq Soulchild joins the #SoulBackPodcast
0:22:40 – What does Musiq do outside of the studio?
0:24:10 – His record "My Girl" with K-Pop producer Jung Key
0:26:10 – Still recording good music at this point in his career
0:31:10 – Creativity vs money as an artist
0:38:45 – The ups and downs throughout the Musiq Soulchild journey
1:08:45 – Upcoming projects from Musiq Soulchild
1:06:37 – Playa Please Awards: Cadbury Mini Eggs mayonnaise, Ella Mai is throwing shots at Jacquees
Follow our podcast on Podbean: https://youknowigotsoul.podbean.com/
Follow our podcast on Soundcloud: https://soundcloud.com/youknowigotsoul/sets/youknowigotsoul-podcasts
Follow our podcast on Spotify: https://open.spotify.com/show/6oLmNUkcXrAqsQP5EBJ4dk
Follow our podcast on iTunes: https://itunes.apple.com/ca/podcast/youknowigotsoul-podcast/id998813013
Follow our podcast on Google Play: https://play.google.com/music/listen?u=0#/ps/Imoe7gt6vd4v6iuf4yq5fyhy3e4
Follow our podcast on YouTube: https://www.youtube.com/playlist?list=PLVyB7WCEUIPl_CYZFTwiNLHqtCHaK2GcK
The post The SoulBack R&B Podcast: Episode 45 (featuring Musiq Soulchild) appeared first on .